Rangkaian produk
Bridgemate
Perangkat skor Bridgemate telah dikenal lebih dari 10 tahun diberbagai event bridge dunia hingga tingkat klab bridge.  Saat ini, kami bangga menyatakan bahwa ada 4,500 klab bridge di 65 negara telah menggunakan Bridgemate. Bersama jaringan global kami,  Bridgemate terus dikembangkan sebagai produk kelas dunia dan menjadi bagian  terpenting dari setiap turmanen.
Bridgemate II
Bridgemate II adalah generasi terkini Bridgemate scoring system.
Direkayasa dari pengalaman selama lebih 10 tahun Bridgemate II memberikan fitur yang lengkap dalam scoring, modern, ramah-pengguna dan meningkatkan pengalaman bertanding yang menyenangkan.
The Bridgemate II scoring system perlengkapan yang sempurna bagi setiap klab bridge.
Bridgemate II is the latest addition to the family, and now the most advanced bridge scoring system in the world, with more than 30 new features. We've also redesigned the product to make it smaller and lighter (but with the same big buttons) and added a much larger, more readable screen.
Simple
Large screen and accessible controls. If you can use a calculator, you can use Bridgemate.
Coordinated
Displays real player names, sit-out information and next-round table assignment.
Efficient
Instant feedback on player rankings for the session, and results, displayed as traveller or frequency list.
Customizable
PIN security and four programmable function keys, for full control over the system and the tournament.
Coordinated
Real-time, synchronised movement information transmitted direct to the tables.
Efficient
Enter one command and send it immediately to every Bridgemate handset.
                  Attractive
Yes, we mean its looks, but we also mean that new members will find added appeal in a club that uses the Bridgemate system.
Tested
Used by 4,000+ clubs in 60 countries, and endorsed by 45 national bridge federations, as well as the World Bridge Federation and European Bridge League.
Affordable
Price options to suit every size of club and bank balance, scoring programme bundles, and free software upgrades and support.
Bridgemate Pro
The original intelligent scorer, now at a very smart price
The Bridgemate Pro is the original Bridgemate device, and now holds a new position as the second most advanced bridge scoring system in the world. With the arrival of the Bridgemate II, we are able to offer the Bridgemate Pro at a very affordable price.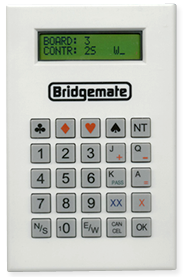 BRIDGEMATE AND SCORING
PROGRAMS
Bridgemate works seamlessly with most popular scoring programs. If you're looking for a new scoring program, we offer a combined bundle at a great price. Read more ›
READ MORE ON THE BRIDGEMATE II
A non-technical introduction to all
the features and benefits of the
Bridgemate II. Read more ›
PRICE A BRIDGEMATE SYSTEM
Find out how much a Bridgemate system
would cost for your club, using our
pricing page. Read more ›